Maximising Off-Site Construction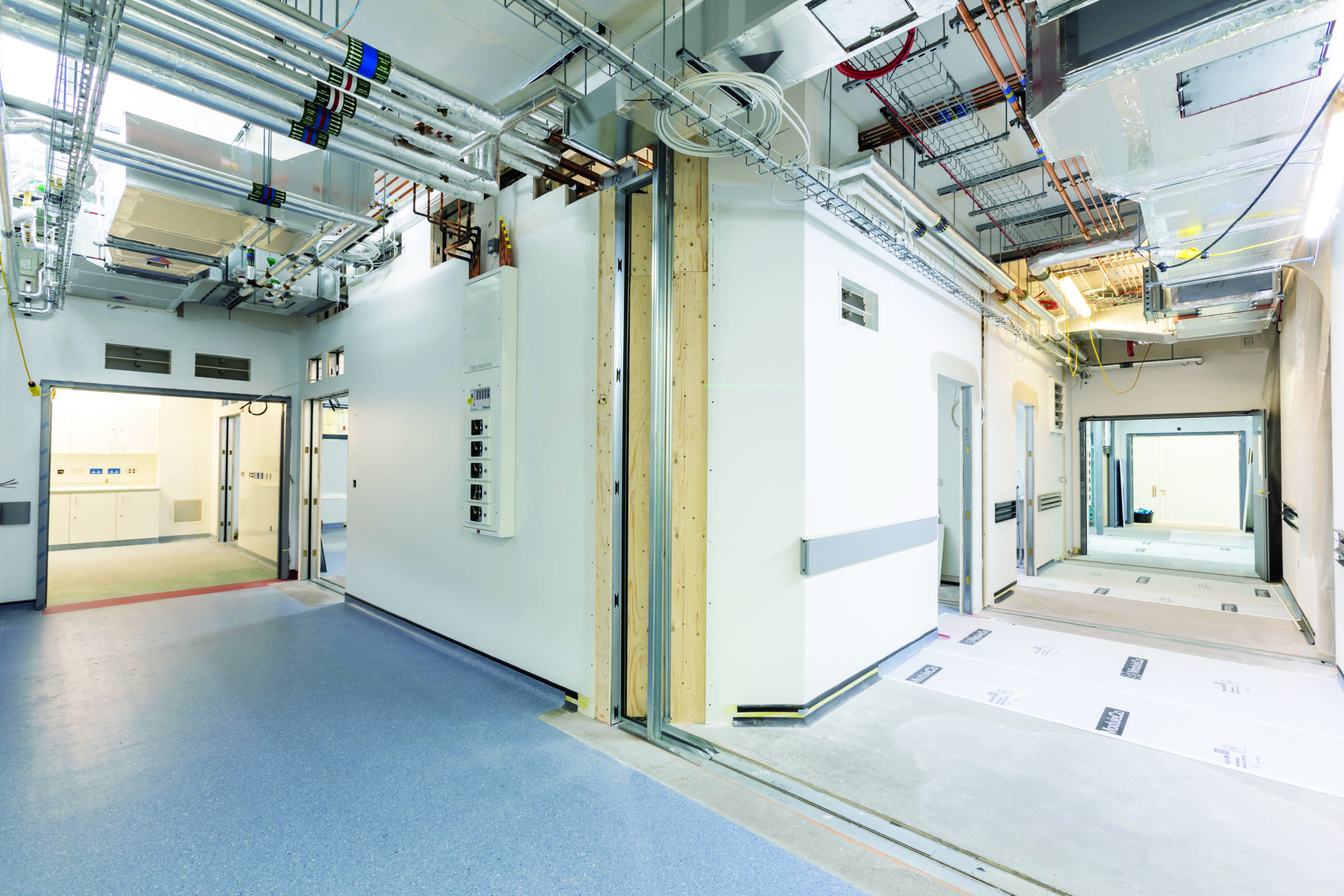 Modular Healthcare Construction
Our modular healthcare buildings are designed and manufactured to the same standards and building codes as traditional construction, but with significant advantages in timescale, quality and sustainability.
The sections of the buildings we manufacture are assembled as modules, which are fully fitted out in our factory, transported to site, installed and then commissioned.
Module assembly and fit-out takes place in our factory at the same time as site enabling works, substantially reducing overall project time.
Our designs offer considerable flexibility when it comes to meeting the challenges presented by having to fit facilities into tight or unusually-shaped spaces. We have achieved this through imaginative design solutions such as taliored module sizes, side-by-side and end-to-end orientation, and single module turnkey facilities such as MRI units.
Our modular healthcare buildings are 'Manufactured for Life'. They provide the highest-quality care environments, constructed with patient care delivery as the foremost priority and possessing a minimum 60 year structural design life.
Maximising off-site construction means the majority of the project is constructed away from the hospital, minimising disruption to your existing estate.
Off-Site Construction
The phrase 'off-site construction' refers to a method of construction where the building elements are manufactured in a different location the site itself – hence 'off-site'.
Fabrication takes place in dedicated off-site manufacturing factories or controlled assembly facilities, just like ours.
Off-site construction offers significant efficiencies in terms of programme, averting delays, health and safety, material use and waste, and is a compelling alternative to a traditional construction project.
A major benefit is the majority of the construction process taking place away from site, significantly reducing disruption to the hospital.
It allows for high-volume production of similar building elements, lending itself to a production line approach where components can be quickly fabricated and assembled.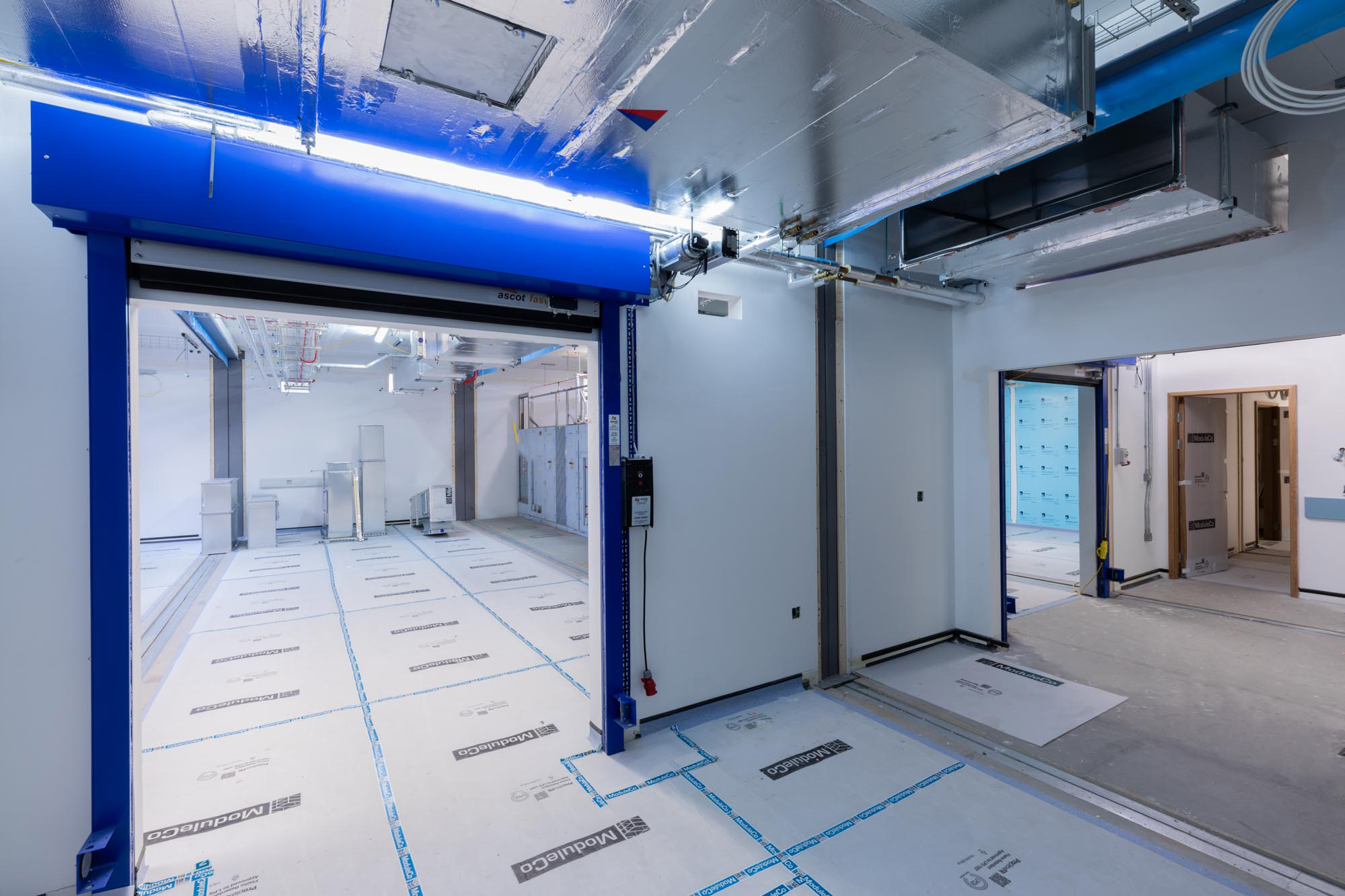 ModuleCo 'Factory-First'
Modular facilities are now a mainstream method of building critical projects, yet the reductions in risk that modular techniques provide can only be realised if the off-site construction potential is maximised and the modular facility is sufficiently technically advanced.
Through many years of delivering mission critical modular buildings, we have honed an industry-defining method of construction to achieve this, dubbed 'Factory-first'.
This is an off-site, product-based method for manufacturing 90% of each our modular facilities in our factory, mitigating operationally critical risk and disruption for our clients.
By focusing on the factory elements of the scheme, we promote a culture much more aligned with a product manufacturing firm (think Dyson or Volkswagen) than traditional construction, providing greater quality control and timescale efficiencies.
Our off-site manufactured solutions, designed especially for healthcare applications, arrive on site with only a minimal amount of site fit-out and commissioning required compared to other modular and traditional solutions.
By effectively transferring these trades to our assembly facility the vast majority of architectural, mechanical and electrical services will be assembled and fitted out in a safe, controlled and weatherproof environment, giving us complete control over the build process at all times.
Our 'Factory-first' approach also allows for a significant amount of pre-commissioning works to be undertaken pre-delivery; we pressure test ductwork and pipework, and we dead test the main electrical installations to ensure the installation is complete and ready for on-site final commissioning.
For maximum manufacturing control, we operate our own 110,000ft2 assembly facility in Mitcheldean, providing abundant capacity for concurrent projects. We carefully forecast productivity and can adjust schedules for urgent requirements at our discretion.
We work closely with a panel of approved subcontractors and supply chain partners which provides assurance in both the experience of the fit-out teams as well as the quality of their materials and components.
Whether purchased outright or hired through ModuleCo Healthcare, all of our facilities are manufactured using our industry-defining approach to off-site construction.