ModuleCo Pharma
ModuleCo's specialist laboratory division, ModuleCo Pharma, is one of the largest, modular, pharmaceutical, laboratory and clean room facility providers in Europe.
ModuleCo Pharma offer a full range of design and construction services with a focus on providing maximum value for our clients. We thrive on pushing the boundaries of what is possible with modular construction in the pharmaceutical industry.
In recent years we have built significantly on our capabilities of delivering laboratory facilities for Government and Hospital use and are now meeting the large-scale and complex demands of multi-national pharmaceutical groups.
What Makes ModuleCo Different?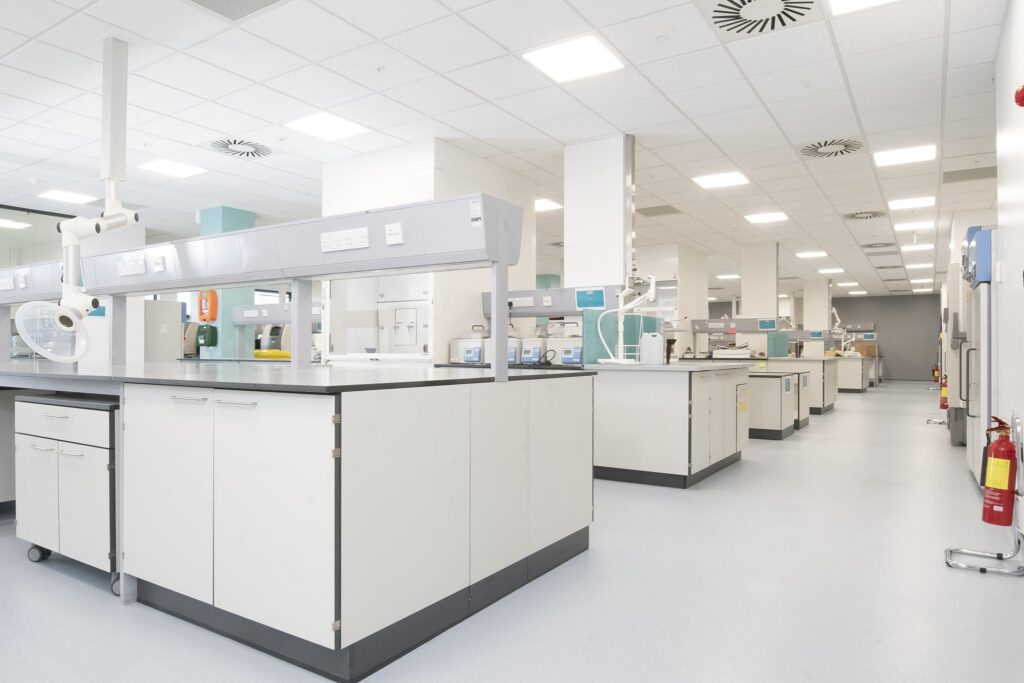 ModuleCo have built the only all-in-one drug production, quality control and packaging facility anywhere in the world.
We offer turnkey facilities meeting a range of industry recognised standards for any use, be that GMP Stem Cell Production or GMP Quality Operations through to BSL vaccine testing and development.
Our modular laboratories and clean rooms for the healthcare environment, cover various disciplines, ranging from pathology and phlebotomy to cytotoxic pharmacy, and meet all required and specified NHS HBN and HTM guidelines for the design and installation of healthcare laboratory facilities.
ModuleCo Pharma has delivered:
Standard pathology laboratories designed to house bench mounted automatic analysers and haematology facilities.
Larger facilities supplied include a cytotoxic drug preparation facility, ventilated to cleanroom standards and a series of containment facilities used to safely allow the storage of highly toxic pathogens for immunology work.
Clean rooms supplied in the past include standard pathology laboratories designed to house bench mounted automatic analysers and haematology facilities.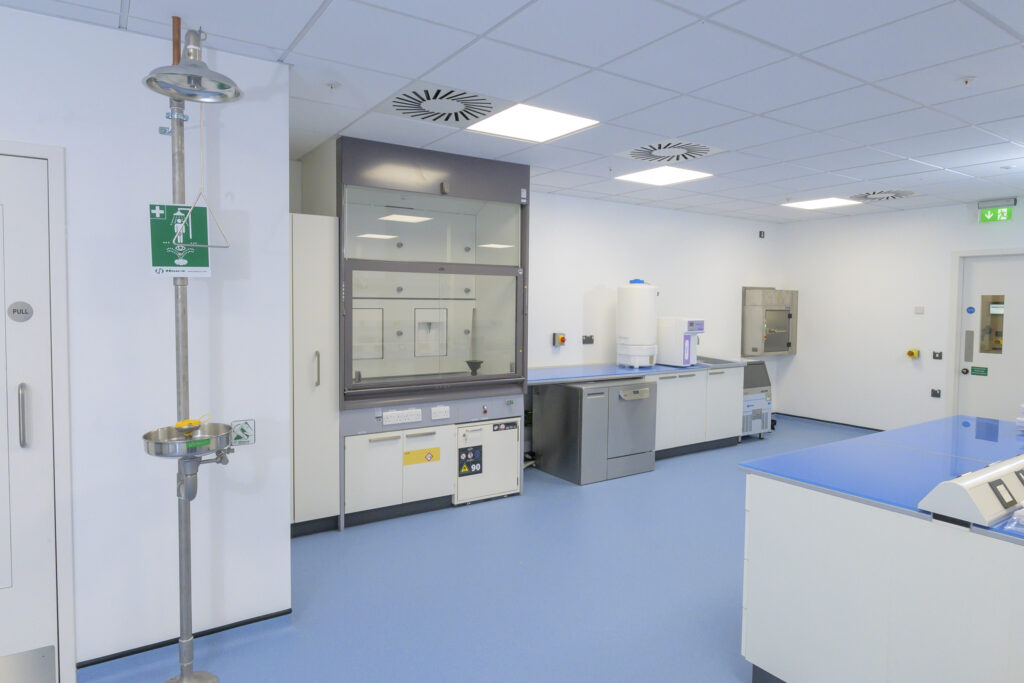 We offer designs that phase the growth of facilities and provide a 'just-in-time' approach to growth, providing our clients with maximum value and technically excellent facilities at handover.
Our Pharma programmes are between 30% to 50% faster than like-for-like equivalent traditional methods. With the same qualification processes to be undertaken regardless of modular or traditional, our programme betterment is achieved because we construct the buildings within our UK assembly facility; where we are not at the mercy of the elements and can, if necessary, work round the clock to achieve tight client deadlines.
The controlled factory conditions of our assembly facility enable construction safety requirements to be easily overseen. This ultimately leads to an enhanced build quality through improved quality control procedures.
Depending upon the facility and configuration required ModuleCo Pharma can build a custom facility or leverage the experience of previously delivered schemes to ensure exacting requirements are met. ModuleCo Pharma's in-house design and engineering team can tailor a solution for your precise application, process and environmental needs.
Learn more about the Design and Construction of our modular facilities.
Temporary Laboratory Hire
ModuleCo provide Temporary Laboratories for those looking for less a permanent solution.
We are able to offer Laboratories on a hire basis through our procurement partner, ModuleCo Healthcare.
Hire contracts are available from 12 months to 15 years and can include a fully managed service. A fully managed service option includes the design, manufacture, installation and commissioning of the facility, combined with the provision of hard and soft services.
All of our hire facilities are designed and built to the same state-of-the art, industry-leading quality as all our modular healthcare buildings.
ModuleCo and ModuleCo Healthcare are experts in the design, construction and procurement of modular healthcare buildings. Whether it is a permanent or temporary requirement, we have the experience and capacity to meet any challenge you face.
Find out more about the procurement options available to you.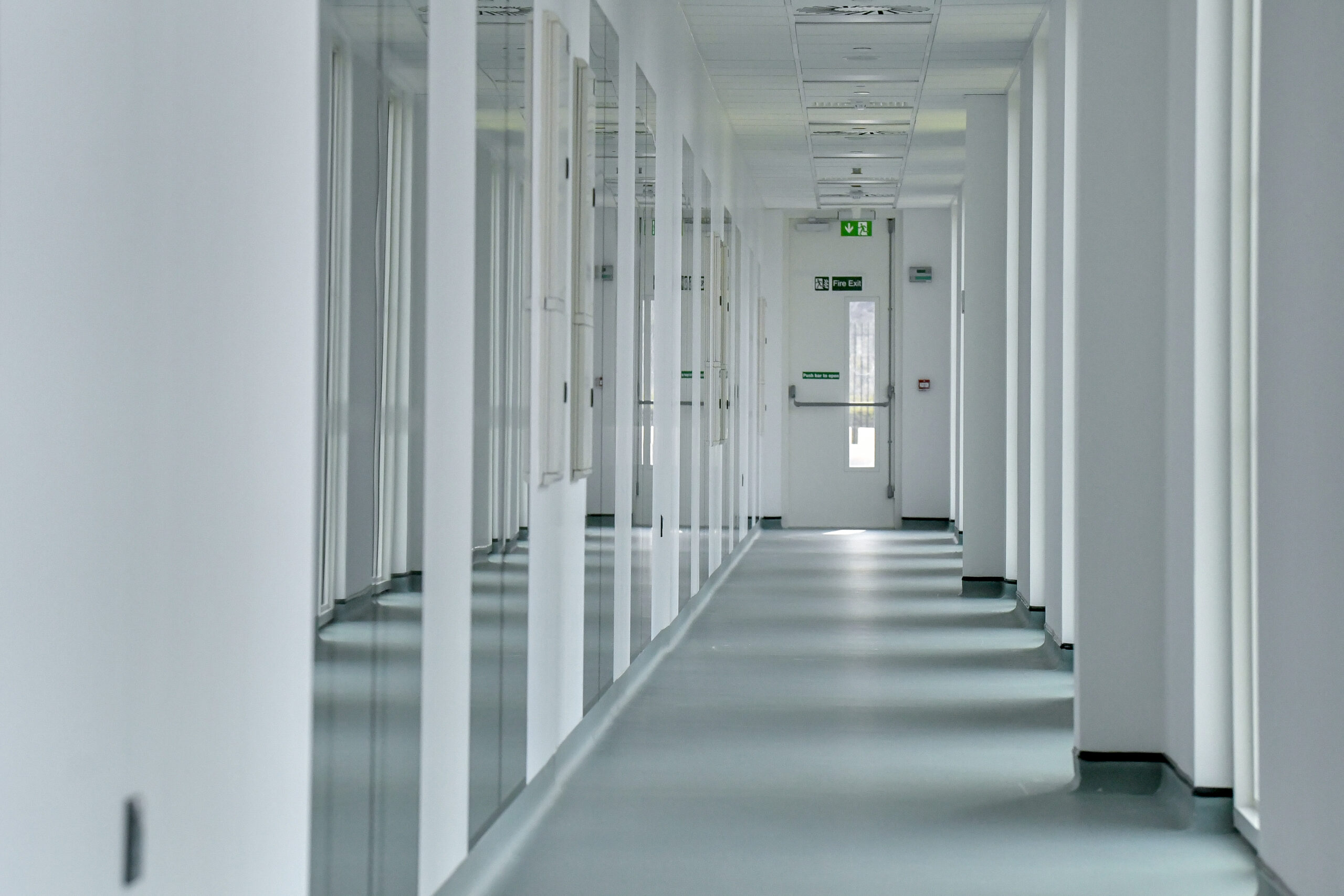 Here To Help
ModuleCo's philosophy of 'quality without compromise' is founded on years of listening to what matters most to our clients and then striving to design, manufacture and deliver a 'best-in-class' facility that we and our clients can be proud of.
Our 'Factory-first' approach means we produce 90% of your facility off-site, allowing you to continue 'business as usual' and with minimum disruption on site.
Whatever challenge you face we are here to help. Our design team will strive to find a solution for any site which will be a valuable addition to the Hospital and will provide a modern and efficient working environment for staff.
We are committed to provide you with the type of facility your Healthcare Professionals expect. It is a challenge we are happy to accept and one that we have a proven track record of meeting.