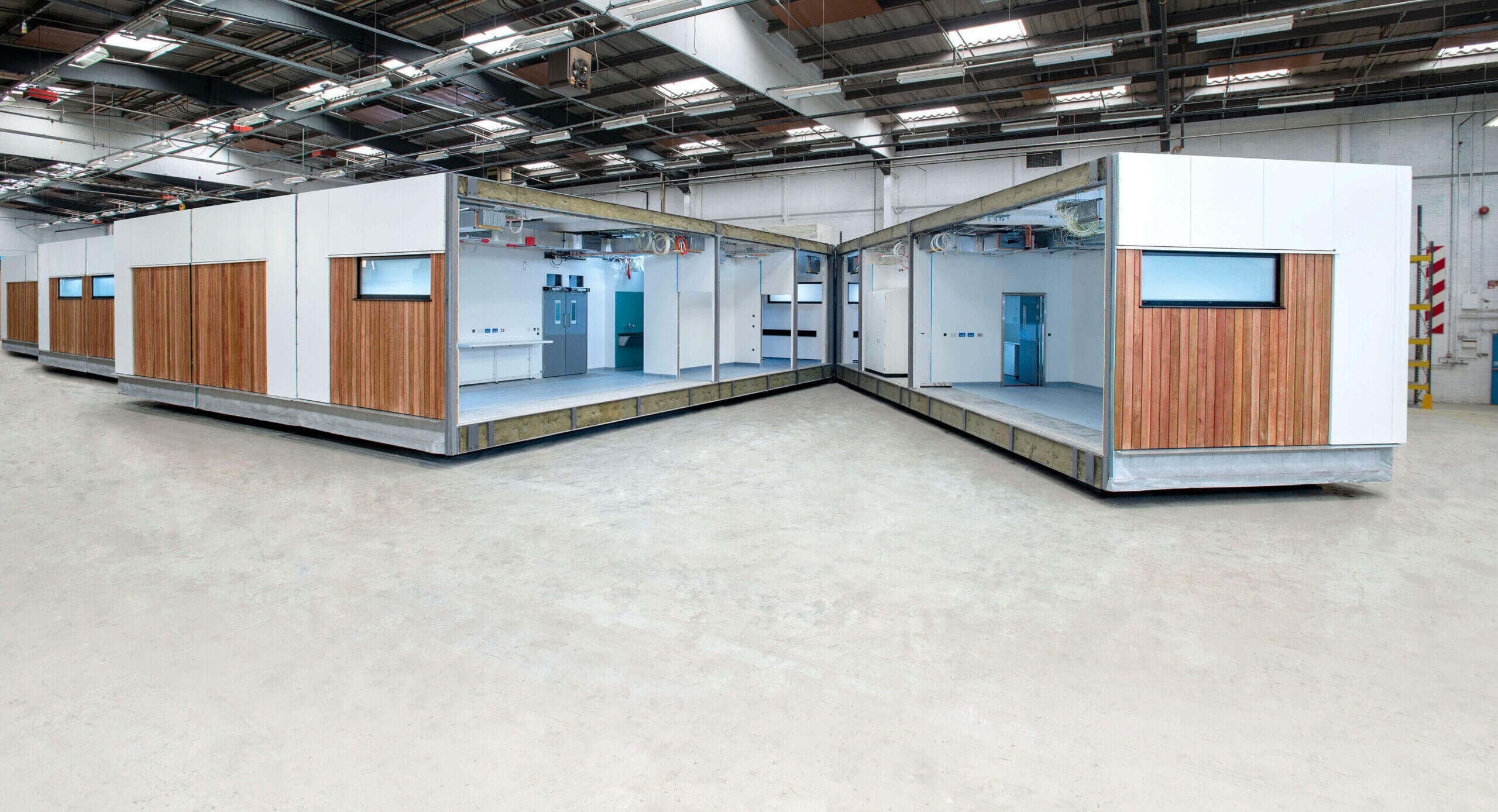 Award Winning Healthcare Facilities
Explore modular healthcare facilities that help you save time, minimise disruption and reduce your environmental impact
By working with and listening to clinical teams for over two decades, we understand what health professionals expect from a quality hospital facility. Modular Healthcare Facility Benefits
Faster
50% reduction in programme times
World Class
Award-winning healthcare environments of the highest quality
Continuity
90% of each facility is manufactured off-site
Sustainable
Socially responsible construction with net zero carbon capability
Manufactured for Life
For all healthcare professionals, the well-being of your patients is at the heart of what you do.
That is why our mission is to provide you with industry leading facilities, designed to optimise your patients' experience, promoting successful recovery in an environment of the highest quality.
External Appearance
Architect designed buildings have external appearance that blends in sympathetically with an existing hospital estate. Choice of materials including cladding, wood, brick etc…
Internal Finishes
Highest quality internal finishes which meet the requirements of UK building control, fire regulations & HTM/HBN performance criteria.
Structurally Robust
Robust structural frames which allow multi-storey deployments from day one, together with a 60-year structural design life.
M&E Services

We offer a full BIM and REVIT designed M&E solution, produced in a matter of weeks, created with efficiency and compliance in mind.
Internal Height
Our operating theatres boast at least a 2.9m high ceiling for the safe operation of equipment in a spacious and user-friendly working environment.
Our Approach to Healthcare Construction
In-House Design
Our in-house design team has 20 years experience in modular building techniques and over 15 years of experience in specialist healthcare design.
Manufactured for Life
ModuleCo facilities are created to help you to provide the best possible care for your patients.

Off-Site Construction
Our off-site modular construction method saves you time, minimises disruption and reduces your environment impact.
Net Zero Carbon Construction
We offer our clients the benefit of a net zero healthcare construction process, with reporting methodology verified to ISO standard.
About ModuleCo
We provide fast-track modular construction of complex, fully-fitted healthcare buildings to the NHS and other healthcare service providers.
Our modular designs are tailored for a number of healthcare applications, will full consideration given to NHS HTM and HBN recommendations, and delivered rapidly using off-site construction techniques.
Highly robust with the 'look and feel' of traditional buildings, our facilities have a structural design life in excess of 60 years.
A range of different procurement options are available, from direct purchase via ModuleCo or facility hire through our partner company ModuleCo Healthcare.
Take A ModuleCo Facility Virtual Tour
Proudly Building Partnerships