Modular Operating Theatres Built to the Highest Standards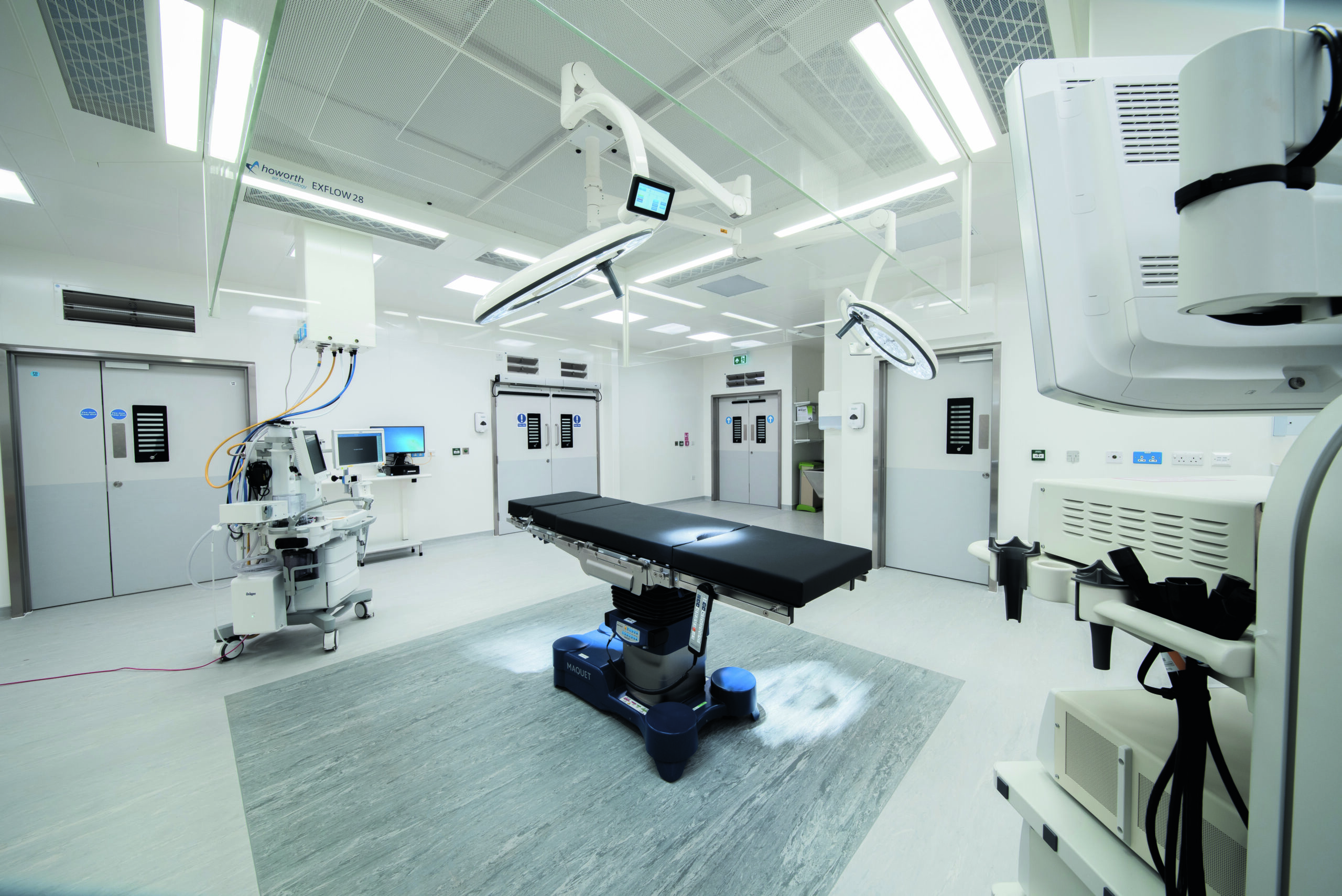 Modular Operating Theatre Construction
When clients experience one of our Modular Operating Theatres, the most common phrase we hear is 'I had no idea that this was a modular building'.
Health Professionals are extremely comfortable working in our award-winning Operating Theatres because they are designed with the patient experience as the top priority. Having delivered over 120 state-of-the-art Operating Theatres in the UK, our team has learned precisely what clinical teams want and expect from a quality facility.
Our specialist in-house modular design team and 110,000ft2 of controlled assembly facility mean we can deliver entire hospital operating departments and multi-storey complexes combining modular Operating Theatres with General In-Patient Wards and beyond.
Our experience allows us to both listen and learn from our customers, which is why we are well-known for providing the type of facilities clinical teams want.
What Makes Our Operating Theatres Different?
Advances in construction technologies coupled with our investment into the detailed design specifications required for Operating Theatres mean that we offer highest quality facilities across many differing needs.
Our experience means that we have delivered both 'standard' and 'bespoke' Theatres among some of the most space-constrained, awkwardly-shaped and logistically challenging locations in the UK – maximising the facility footprint, without ever compromising the quality of the design.
All facilities are provided with Group 1 equipment, including anaesthetic pendants, surgeon's light, surgeon's panel, and are electronically supported by an integrated, resilient IPS and UPS system.
Equipment is tailored to match client specific requirements as well as the existing hospital estate and simplify the maintenance requirement.
Flexible Operating Theatre Design
Operating rooms are typically supported by an anaesthetic room, prep room, scrub and a dirty utility room.
Our Operating Theatres are available with the following options:
Ultra-clean ventilation (UCV) laminar flow canopy
Recovery ward
Lay-up preparation area or sterile pack store
Plant deck or plant room
Our modular hospital facilities offer a flexible approach to design finishes. Both internal and external finishes can be tailored to match existing Hospital estate.
New build theatres can include windows, with frosting or laser protection, to provide your clinical team with natural light.
Every modular operating theatre is designed and manufactured in accordance with the NHS Health Building Notes (HBN) and Health Technical Memorandum (HTM) Guidelines for the design and installation of healthcare facilities, specifically:
Fire safety is a critically important consideration in the process of our design. Our design team will work collaboratively with your Fire Officer to integrate the new facility with an existing fire strategy and ensure compliance to HTM 05-02.
Regional guideline variances can also be adopted for facilities required in Wales, Scotland and Northern Ireland.
Learn more about the Design and Construction of our modular healthcare facilities.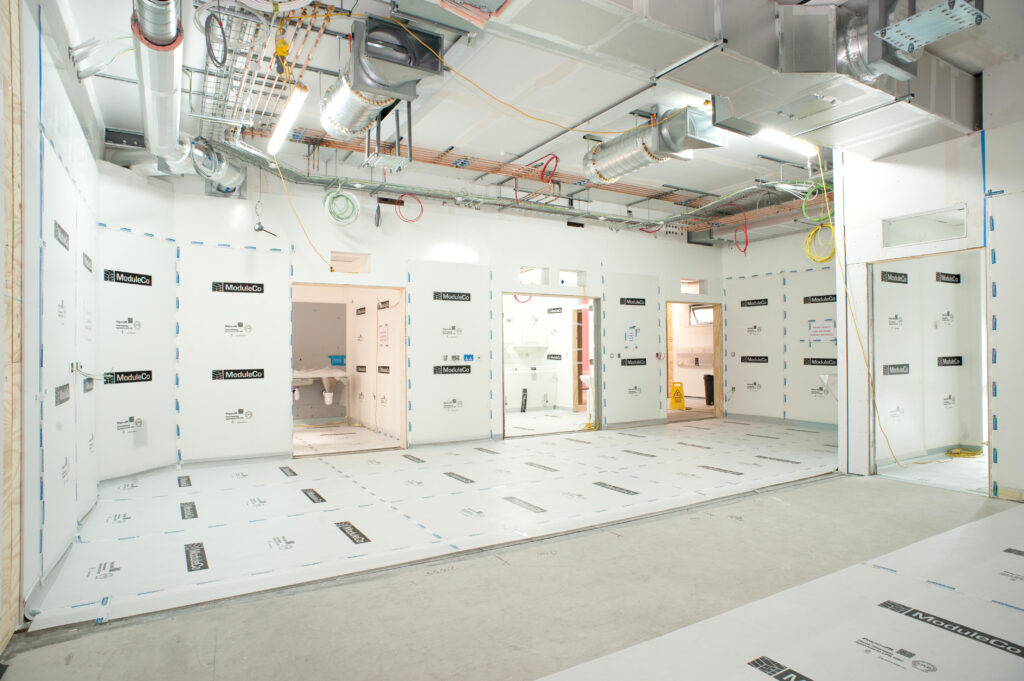 Operating Theatre Categories and Specialisms
Standard General Anaesthetic Operating Theatres
A state-of-the art General Anaesthetic Operating Theatres from ModuleCo offer a fast-track way to increase Operating Theatre capacity.
Our 144m2 Theatre facility offers all the functionality expected of a standard Theatre Suite with a 55m2 operating space.
The facility contains all of the critical areas required to run major surgery and includes an operating room with integrated scrub for three people, anaesthetic, sterile pack store or lay-up prep, dirty utility, IPS/UPS and link corridor.
It can be provided with or without an ultra-clean ventilation (UCV) laminar flow canopy to meet procedural use requirement.
Our General Anaesthetic Theatres are constructed off-site to ensure the shortest amount of time is required on site, minimising disruption to the existing hospital estate.
A patient-ready Standard Operating Theatre requires only 4 weeks of site works, including commissioning, ready to handover to your clinical team on the Monday of Week 12.
Standard Operating Theatres can be deployed as standalone facilities with recovery space, integrated with the hospital estate, and installed as a Twin or Multi-Theatre Complexes with other Standard and Compact Theatres with interlinking corridor. They can also be supplied in conjunction with in-patient ward space to provide the additional bed capacity required to support the increased procedure capacity.
Orthopaedic Operating Theatre
Orthopaedic Surgery requires as many as seven instrument trolleys at any one time, so a large and flexible space is required for clinical teams to operate in the Theatre effectively.
With the UK's ageing population, there will be an increased demand for joint replacement surgery, together with mounting waiting lists post-pandemic. More Orthopaedic Operating Theatres will be required and ModuleCo provide an award-winning solution.
Our 144m2 Modular Orthopaedic Theatre provides the equivalent functionality of a standard Theatre, including the 55m2 operating space.
The suite contains the critical areas required to run Orthopaedic Surgery, includes the operating room with integrated scrub for three people, anaesthetic room, sterile pack store or lay-up prep, dirty utility, IPS/UPS and linking corridor.
Per the recommendations in HBN 26, ModuleCo Orthopaedic Operating Theatres are equipped with a laminar flow ultra-clean theatre ventilation system, which can be set-back when not carrying out orthopaedic procedures to reduce noise and energy consumption.
Our Multi Orthopaedic Operating Theatre, Recovery and Ward complex at The Royal Orthopaedic Hospital NHS Foundation Trust was awarded 'Off-Site Project of the Year' by Building.co.uk; we were honoured by our recognition for quality from the wider construction industry as well as our clinical partners. We encourage you to read the project review article by Professor Phil Begg of The ROH, entitled 'Operating at the Heart of the Hospital'.
Ophthalmic Operating Theatre
Ophthalmic Surgery requires significant modification to the fixtures, fittings, equipment and structure beyond that of a typical industry operating theatre.
ModuleCo Operating Theatres have floor vibration performance that exceeds the HBN recommendations, requiring no design alterations to meet the specification of a floor mounted microscope.
Should your preference be to install a concrete floor, our module design can be adjusted to facilitate a concrete slab.
We have installed several facilities equipped with a ceiling mounted microscope, adapting the design of our robust modular structure to meet microscope manufacturer specifications.
Window frosting and internal blinds for the clinical doors can be installed to support the use of lasers in theatre. Our Modular Ophthalmic Theatre has the same 144m2 footprint and provides the same level of operating and support space as our HBN compliant General Anaesthetic Theatre.
Laparoscopic Operating Theatre
A state-of-the art General Theatre from ModuleCo offers the spatial requirements for laparoscopic procedures and the supporting accommodation can be tailored to suit.
Our Theatre wall makeup is sufficiently robust to allow for the installation of large television monitors to support the laparoscopic surgery procedures.
Hybrid Operating Theatre with Imaging Equipment
ModuleCo offer Hybrid Operating Theatres through adapting the design of our HBN compliant General Anaesthetic Theatre for the use of imaging equipment.
Our Hybrid Theatre designs can incorporate a mobile CT unit as well as an X-Ray C-Arm.
We can provide the essential lead lining within our ceilings, walls and floors to support the use of imaging apparatus, the specification of which can be flexible.
Three-tier lighting systems and automated, lockable clinical doors are installed for the use of imaging equipment in theatre, all controllable from the surgeon's panel.
The location of equipment such as anaesthetic pendants can be adjusted during the design phase to your clinical teams preferred configuration, allowing for more comfortable use of the imaging equipment.
Day Surgery Unit
A standalone modular Day Surgery Unit can be designed with all the clinical and supporting accommodation recommended by HBN 10-02: main reception area; admission suite; sub-waiting area; anaesthetic room; operating theatre; post-anaesthesia care unit (PACU); second-stage recovery; and a discharge lounge.
Our Day Surgery Units can also be integrated with the existing estate with the clinical and supporting accommodation added or omitted to the design as required.
A dedicated Day Surgery Operating Theatre can also be installed to provide increased procedural capacity to an existing Day Surgery Unit.
To provide maximum flexibility, our Day Surgery Operating Theatres benefit from same theatre footprint as our General In-Patient Theatres, also offering a compact theatre as an alternative option for Day Units with restricted site space.
Compact Operating Theatre
A Compact Operating Theatre offers a fast-track way to increase capacity in a reduced footprint without compromising on quality.
Available in only 9 weeks from order, the 96m2 Theatre facility offers all the functionality of a standard theatre suite with 42m2 of operating space.
Specification of the condensed Operating Theatre is ideally suited for Day Surgery requirements and can be designed in combination with a Day Ward to serve as a Day Surgery Unit.
The facility contains all of the key areas required to run major surgery and includes an operating room with integrated scrub for two people, anaesthetic, sterile pack store or lay-up prep, dirty utility, IPS/UPS and a lobby. Compact Operating Theatres can be deployed as standalone facilities with recovery space, integrated with the hospital estate, and installed as a Twin or Multi-Theatre Complexes with other Compact and Standard Theatres with interlinking corridor.
Temporary Operating Theatre and Operating Theatre Hire
ModuleCo offer Operating Theatre Hire for those looking for less permanent solutions.
We are able to offer all operating theatre types on a hire basis through our procurement partner, ModuleCo Healthcare. Operating Theatre hire contracts are available from as little as 12 months to as long as 15 years and a fully managed service option includes the design, manufacture, installation and commissioning of the facility, combined with the provision of hard and soft services.
All of our operating theatre hire facilities are designed and built to the same state-of-the art, industry-leading quality as all our modular healthcare buildings.
ModuleCo and ModuleCo Healthcare are experts in the design, construction and procurement of modular healthcare buildings. Whether it is a permanent or temporary requirement, we have the experience and capacity to meet any challenge you face.
Find out more about the procurement options available to you.
Here To Help
ModuleCo's philosophy of 'quality without compromise' is founded on years of listening to what matters most to our clients and then striving to design, manufacture and deliver a 'best-in-class' facility that we and our clients can be proud of.
Our 'Factory-first' approach means we produce 90% of your facility off-site, allowing you to continue 'business as usual' and with minimum disruption on site.
Whatever challenge you face we are here to help. Our design team will strive to find a solution for any site which will be a valuable addition to the Hospital and will provide a modern and efficient working environment for staff.
We are committed to provide you with the type of facility your Healthcare Professionals expect. It is a challenge we are happy to accept and one that we have a proven track record of meeting.