World-Class Surgical Hubs Built Off-Site
Exceptional Surgical Hub Construction
For the NHS and Private Healthcare, surgical hubs are the answer to the ever growing need for fast-tracking planned operations to begin clearing the backlog.
David Javid, Secretary of State for Health and Social Care, said: "We are going to harness innovative new ways of working, such as surgical hubs, to deliver the millions more appointments, treatments and surgeries that are needed over the coming months and years to tackle waiting lists."
Surgical hubs provide all of the resource, skill and accommodation within one dedicated healthcare facility, typically located on existing hospital sites but can also be established as standalone premises.
Our experience means that we have delivered both 'standard' and 'bespoke' surgical hubs among some of the most space-constrained, awkwardly-shaped and logistically challenging locations in the UK – maximising the facility footprint, without ever compromising the quality of our designs.
ModuleCo modular surgical hubs are designed and constructed in-house, in accordance with the NHS Health Building Notes (HBN) and Health Technical Memorandum (HTM) Guidelines for the design and installation of healthcare facilities, specifically:
Regional guideline variances can also be adopted for facilities required in Wales, Scotland and Northern Ireland.
Learn more about the Design and Construction of our modular healthcare facilities.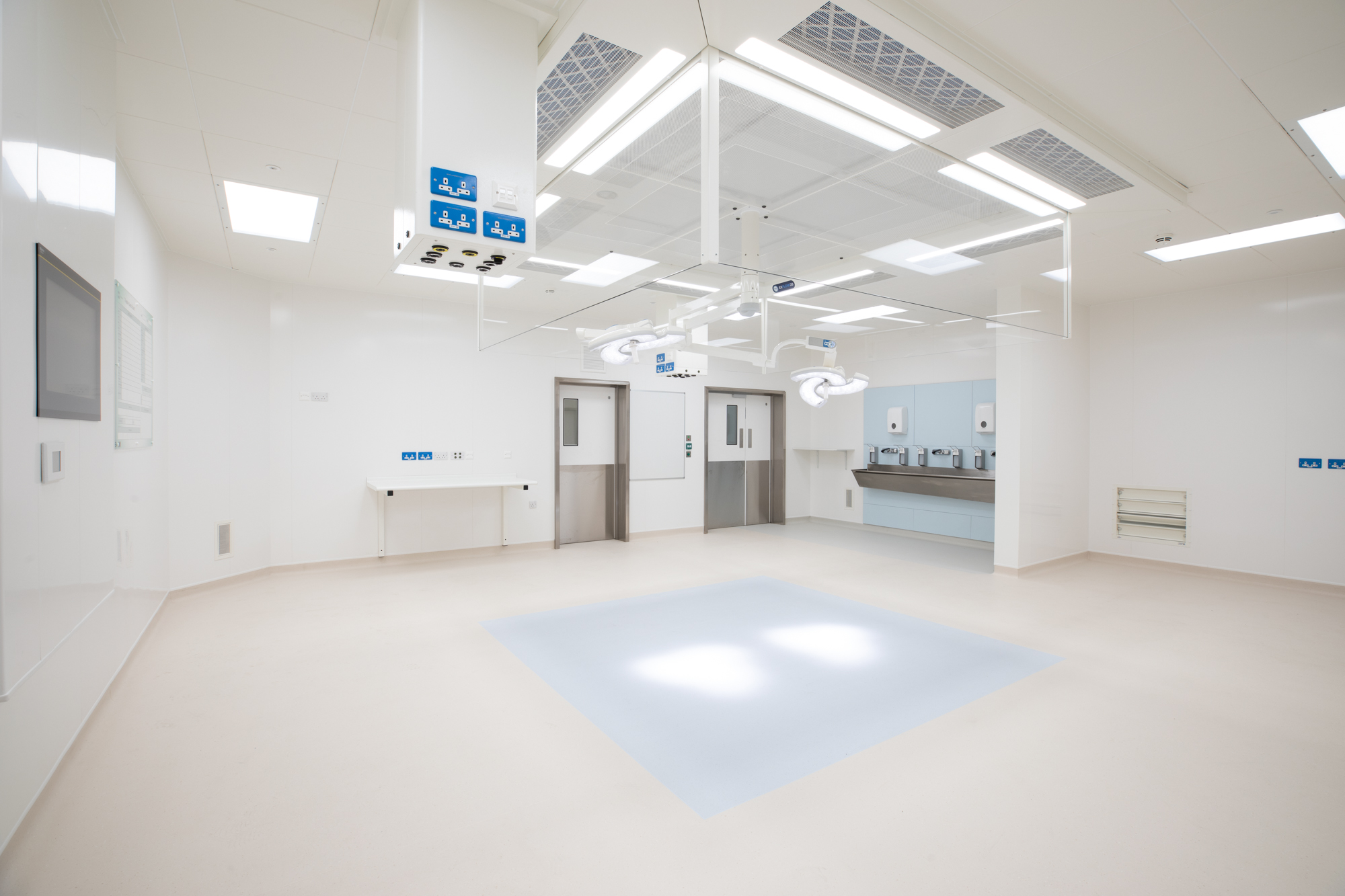 Professor Phil Begg, Executive Director of Strategy and Transformation at Royal Orthopaedic Hospital NHS Trush, referring their new 4-theatre and 20-bed ward orthopaedic surgical hub, remarked:
"The operating theatres are so exceptional – we have surgeons quite literally queuing up to use them. Between us and the team at ModuleCo, we have created the optimum conditions for the recovery of the patients in our care. That's something to be proud of."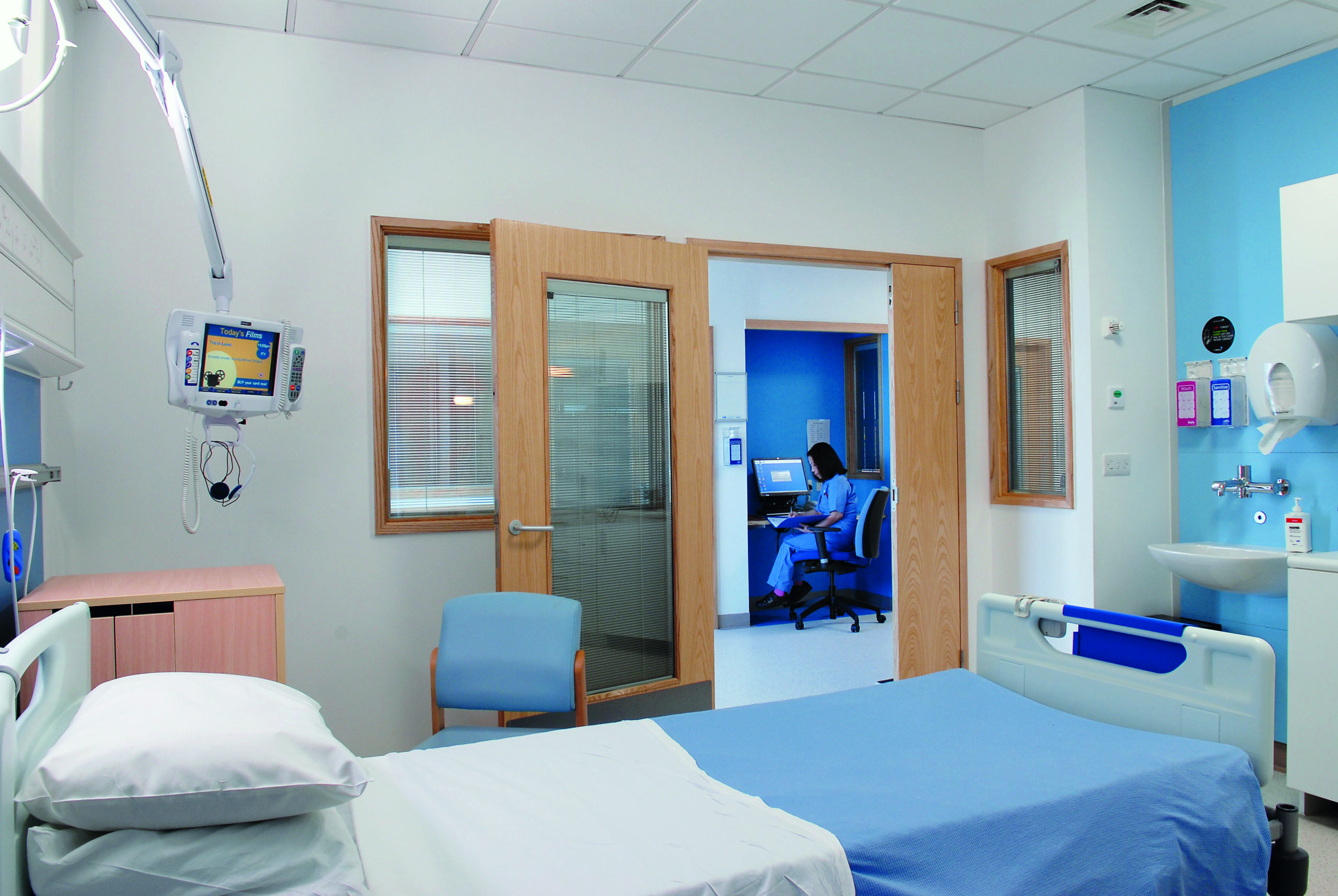 Surgical Hub Accommodation
Operating rooms are typically supported by an anaesthetic room, prep room, scrub and a dirty utility room.
Our operating theatre suites are available with the following options:
Ultra-clean ventilation (UCV) laminar flow canopies
Recovery wards
Lay-up preparation areas or sterile pack stores
Plant decks or plant rooms
Our design of wards areas offers a range in room sizes that are flexible to meet particular needs, using a combination of:
'Patient pods' or single bed en-suite rooms
Two-bed en-suite rooms
Three-bed en-suite rooms
Four-bed en-suite rooms
Our standard ward room design is typically configured using four-bed rooms which minimise staff pressures whilst offering a comfortable and safe recovery space.
Bed spaces, even within single bedrooms, allow for an eight-person emergency attendant team to operate comfortably.
The floor of our surgical hub modules have been specifically designed to minimise noise transfer and vibration.
Operating room floors achieve a response factor of less than 1, bettering the HTM 08-01 recommendation and ensuring a sound working environment for your clinical team.
The ward floors achieve a response factor of less than 2, bettering the HTM 08-01 recommendation and ensuring a comfortable recovery environment for your patients.
U-values and air permeability perform well beyond standard requirements, improving the building's sustainability through reduced heating and cooling requirements year-round.
Our 'Factory-first' approach means we manufacture up to 90% of your surgical hub off-site, allowing you to continue 'business as normal' for as long as possible, dramatically reduce your programme and minimise disruption on site.
Learn more about the Design and Construction of our modular healthcare facilities.
Surgical Hub Virtual Tour
Here To Help
ModuleCo's philosophy of 'quality without compromise' is founded on years of listening to what matters most to our clients and then striving to design, manufacture and deliver a 'best-in-class' facility that we and our clients can be proud of.
Our 'Factory-first' approach means we produce 90% of your facility off-site, allowing you to continue 'business as usual' and with minimum disruption on site.
Whatever challenge you face we are here to help. Our design team will strive to find a solution for any site which will be a valuable addition to the hospital and will provide a modern and efficient working environment for staff.
We are committed to provide you with the type of facility your Healthcare Professionals expect. It is a challenge we are happy to accept and one that we have a proven track record of meeting.