The University of Greenwich plays a key role in educating and training the UK's health and social care workforce with over 2,000 learners studying on professional practice programmes at any one time. It is home to the Greenwich Learning and Simulation Centre (GLASC) situated in the School of Health Sciences at the Avery Hill and Medway campuses, led by a team with wide ranging expertise in simulation and its diverse applications.
Simulation is a highly effective approach to bridging theory and practice, which is fundamental to the University's health-related courses. Investment in developing simulation infrastructure and facilities is central to their success as educators for the current and future NHS workforce.
ModuleCo provided a critical care simulation facility on the University's Avery Hill campus, realising the faculty's vision for a state-of-the-art simulation unit comprising of emergency triage, adult and paediatric intensive care bays, an operating theatre and an outside ambulance bay, together with immersion space to enable a range of simulations to take place.
The new £3.5m facility enabled the faculty to provide full spectrum of healthcare services for students to experience, provide innovative modes of study to meet the healthcare students' unique scheduling and learning requirements, provide increased opportunity for simulated practice in lieu of practice placement hours and contribute to improved graduate outcomes, as well as ensuring the healthcare workforce are skilled in critical care, post Covid.
The project was initiated by the only in July 2021 through an Office for Students national capital funding call centred around the aforementioned vision. A University collaboration between the School of Health Sciences and the Estates & Facilities Team ensured a strong bid was submitted, which was subsequently successful. With the knowledge that a decision was likely in the following October, the University explored innovative solutions for the main build, but with an absolute requirement to retain the high standards of build that would be expected in a real NHS facility.
ModuleCo were identified as an ideal project partner who had an active track record of delivering complex NHS clinical spaces at all scales, resulting in a direct appointment for the scheme via the NHS Shared Business Services Framework.
The facility's construction was taken to almost 90% complete, off-site in our dedicated manufacturing centre, an approach which reduces the risks associated with traditional construction projects and promotes sustainability and better quality control. The University were therefore able to significantly reduce the overall programme by carrying out the groundwork concurrently and minimising the disruption to the Avery Hill Campus students during their exam period with the vast majority of works transferred away from the chosen site.
Karl Storz and GE were appointed to deliver some of the key equipment that the students will be using as part of their training. Gener8 Healthcare provided the interactive simulation software for the facility's immersion space, altogether ensuring the equipment within the new facility is as state-of-the art as the building itself.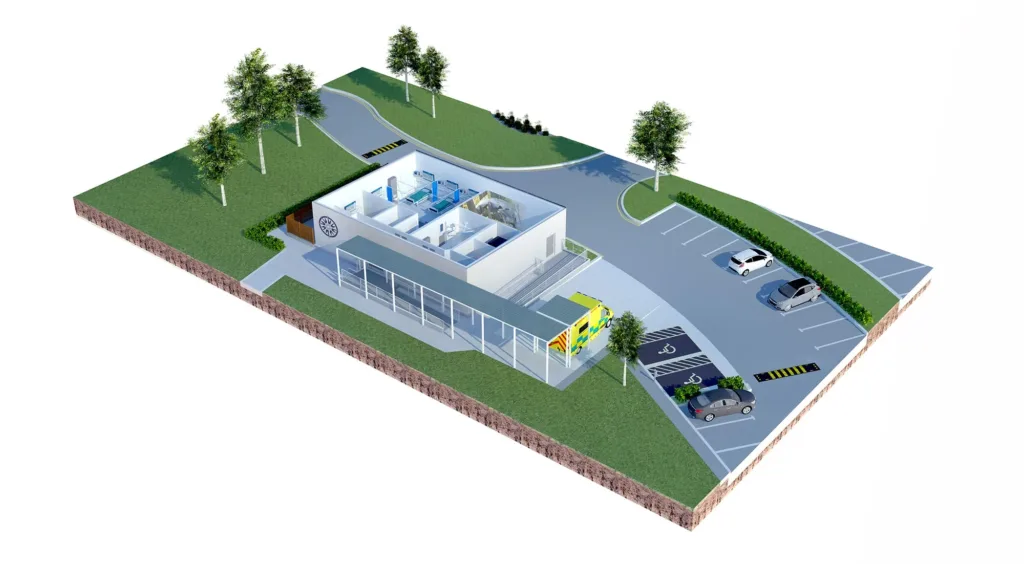 The University's vision for simulation is to focus on the patient journey rather than siloed elements of care, which will enable students to develop a range of skills and a bigger picture view that can be adapted and employed in a range of healthcare contexts. It also provides opportunities for inter-professional learning and sequential simulation which looks at sequences of care across a range of sectors and disciplines aiming to bridge our gaps in understanding and improve healthcare more generally, whether through education, research, or knowledge exchange.
This is an exciting leap forward and what all healthcare courses in higher education institutions should be aspiring to. Simulation is a great bridge from theory to practice and therefore these comprehensive facilities will better prepare students for clinical realities, ultimately enhancing the healthcare workforce and improving patient safety.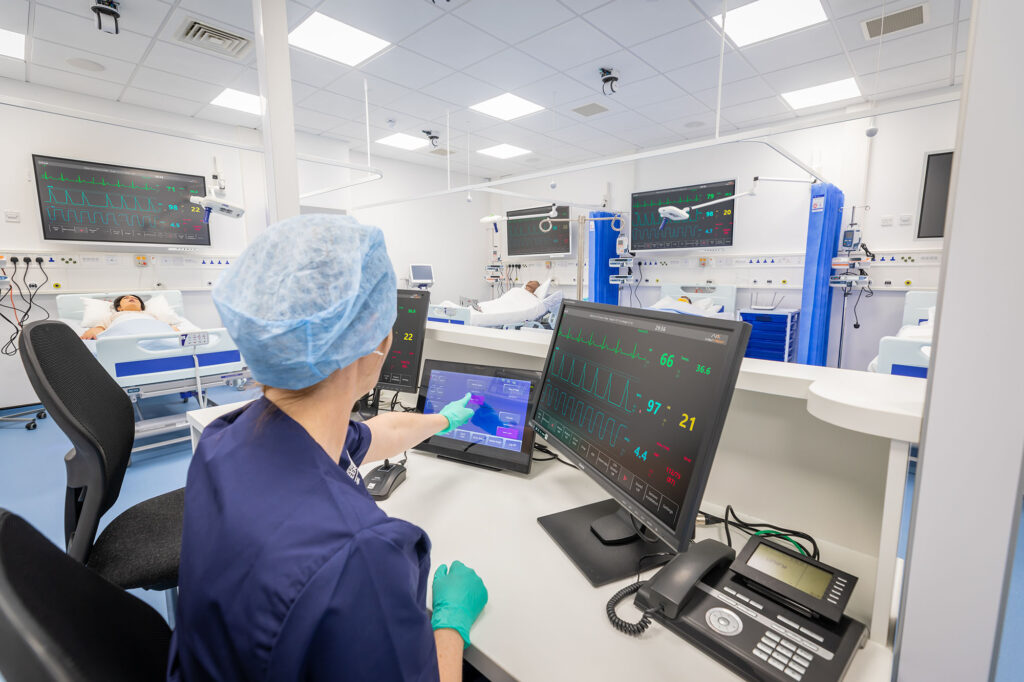 Professor Jane Harrington, Vice-Chancellor of the University of Greenwich, noted: "It's wonderful to see the new facilities at our Avery Hill campus in use. The Critical Care Simulation Unit accurately represents clinical spaces, reflecting the real-life patient pathway, and these fantastic facilities will ensure our students have a safe and realistic environment to develop vital skills for the future."
Jonathan Brindley, Sales and Marketing Director for ModuleCo, commented on the project: "On day one, the University challenged us to design and deliver a facility which would help them offer an exceptional standard of education for the healthcare sector's next generation of clinical professionals. And although it will be used as an educational environment for upwards of 60 students at a time, it has the same look and feel and operates in the same way as the healthcare facilities we provide to hospitals, giving students a truly authentic experience.
"The unique nature of this project offered some different challenges to those we usually face working in live hospital settings, but in working so closely with the other project partners we have together delivered a facility of the highest quality in the fastest possible time.
"I am proud that ModuleCo's passion for helping those who deliver care stretches beyond the hospitals that we typically work with, to now providing the best learning environments for those dedicating their future to caring for those who need it most."
The modular facility was installed on 21st May and will be formally opened later in the summer in anticipation of new and returning students eager to use it from September.