Patient-Focused Hospital Wards
Why ModuleCo?
Our modular hospital wards are designed to prioritise the experience of the clinical teams that work in them and the patients who are treated in them.
Our team even helped write the Healthcare Building Note recommendations on in-patient ward accommodation.
We have developed our designs with clinicians, delivering all types of ward accommodation, and have helped them improve the standard of patient healthcare facilities nationwide.
In addition to multiple NHS Trusts, ModuleCo's modular Hospital Wards have been deployed around the globe, with Private Healthcare Providers, the British Armed Forces, the US Armed Forces and N.A.T.O., all benefitting from their clinical and structural advantages.
What Makes ModuleCo Different?
Advances in construction technologies coupled with our investment into the detailed design specifications required for Hospital Ward environments mean that we can offer highest quality facilities across many differing needs.
Our experience has seen us deliver both 'standard' and 'bespoke' Modular Hospital Wards among some of the most spatially and logistically challenging locations on the planet – maximising the facility footprint, whilst maintaining the highest quality recovery and work environment.
ModuleCo's specialist in-house modular design team and 110,000ft2 of off-site construction facility gives us the unique capability to manufacture and deliver entire Hospital Ward complexes and multi-story hybrid facilities combining In-Patient Wards with Operating Theatres and beyond.
All facilities are provided with Group 1 equipment, including nurse call, examination lights, medical trunking and sanitaryware.
We are comfortable working with suppliers nominated by the client to meet specific requirements, match the existing hospital estate and simplify maintenance.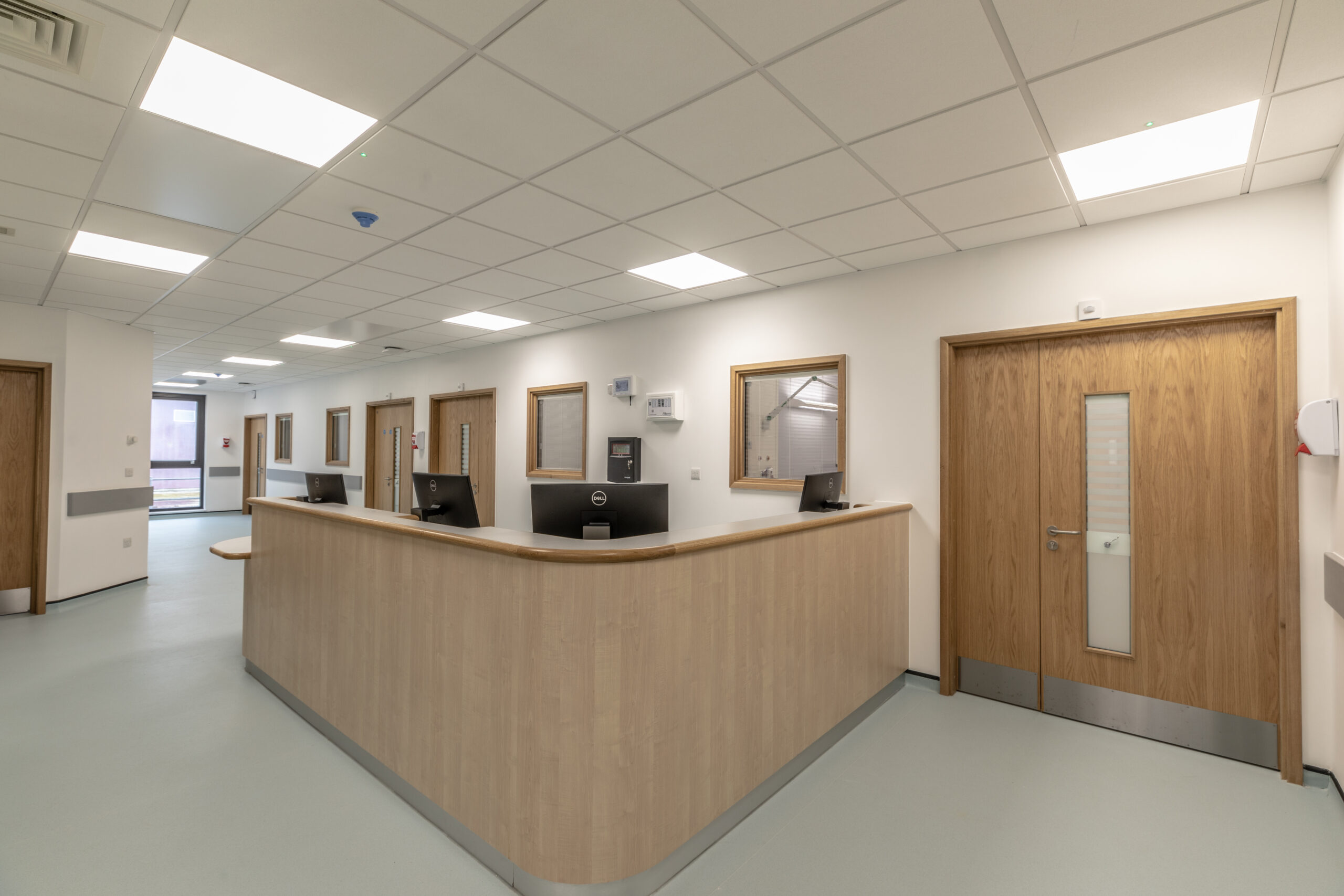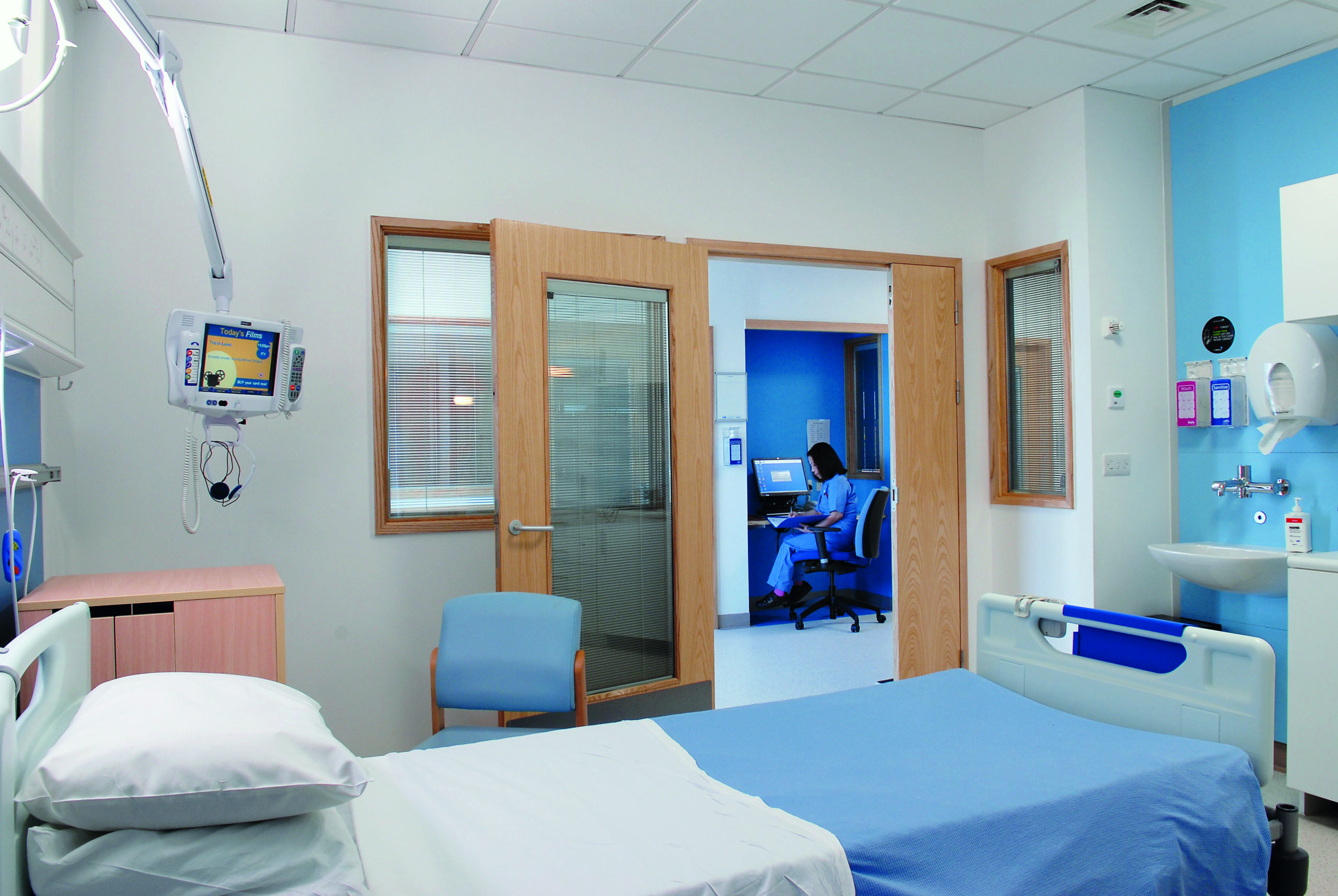 ModuleCo Wards are designed for multi-storey deployment, with room sizes that are flexible to meet particular needs, using a combination of:
Single bed en-suite rooms
Two-bed en-suite rooms
Three-bed en-suite rooms
Four-bed en-suite rooms
Our standard Ward design is typically configured using four-bed rooms which minimise staff pressures whilst offering a comfortable and safe recovery space.
Bed spaces, even within single bedrooms, allow for an eight-person emergency attendant team to operate comfortably.
Support accommodation and ancillary space is provided to meet client specific needs, from staff rest/WC through to an entire accommodation block supporting the standalone running of the Ward.
All our modular Hospital Wards offer flexibility in design finishes. Internal and external finishes can blend with the existing hospital estate providing a more comforting and consistent environment for its users.
Every modular ward is designed in accordance with the NHS Health Building Notes (HBN) and Health Technical Memorandum (HTM) Guidelines for the design and installation of healthcare facilities, specifically:
HBN 04-01 – Adult in-patient facilities
Regional guideline variances can also be adopted for facilities required in Wales, Scotland and Northern Ireland.
The floor of our modules has been specifically designed to minimise noise transfer and vibration. Our hospital ward floors achieve a response factor of less than 2, bettering the HTM 08-01 recommendation and ensuring a comfortable recovery environment.
U-values and air permeability perform well beyond standard requirements, improving the building's sustainability through reduced heating and cooling requirements year-round.
Our 'Factory-first' approach means we produce 90% of your facility off-site, allowing you to continue 'business as normal' for as long as possible and with minimum disruption on site.
Learn more about the Design and Construction of our modular healthcare facilities.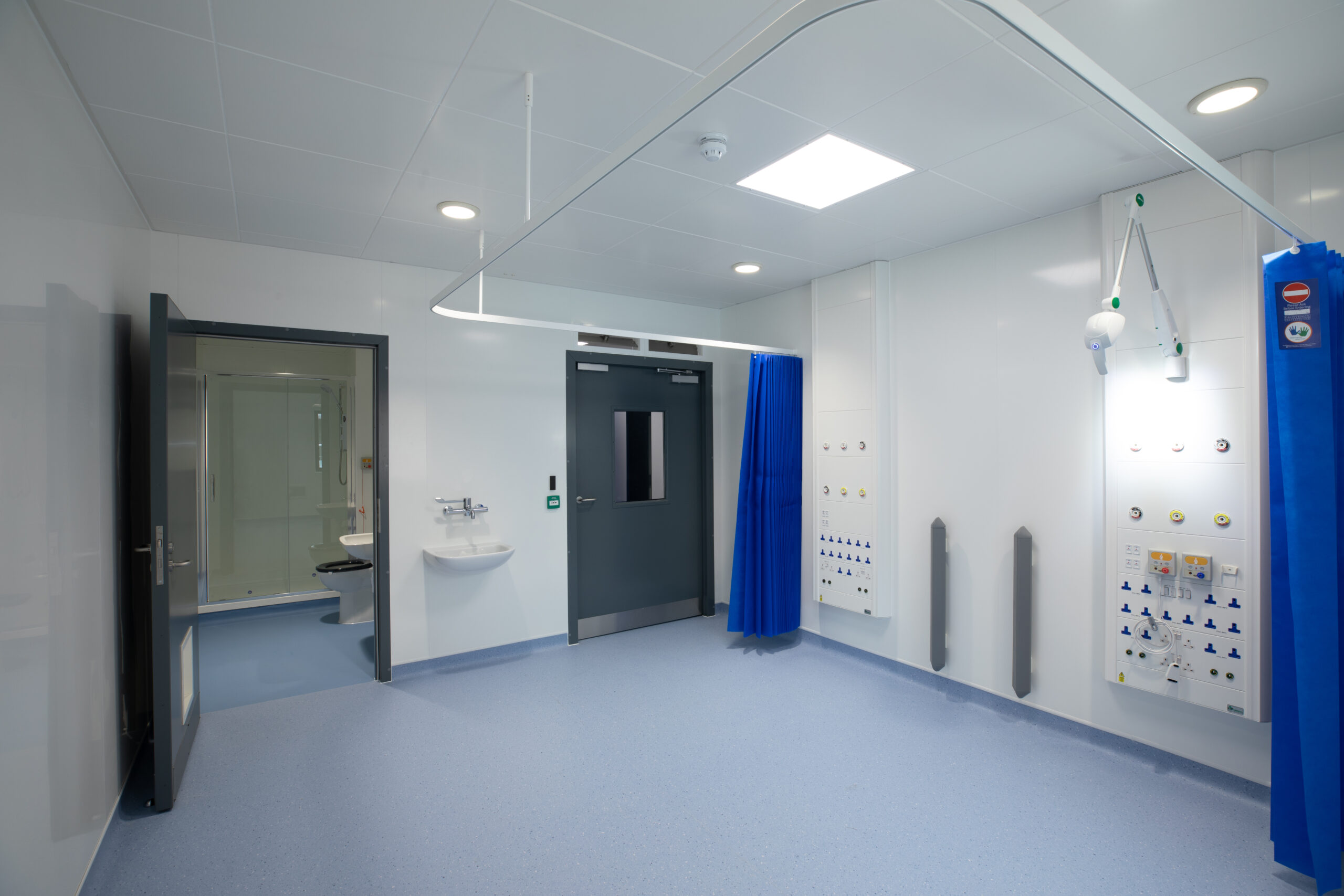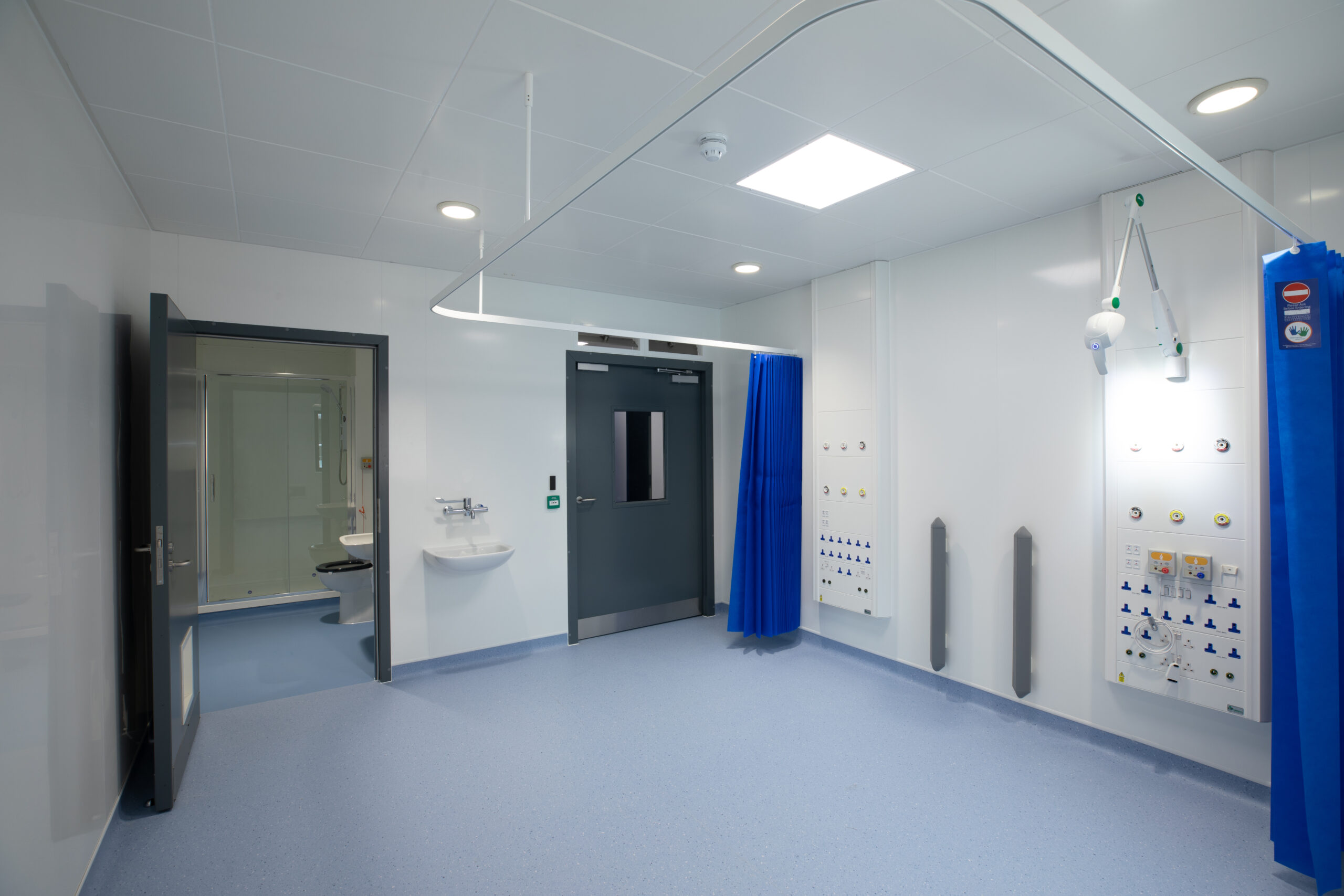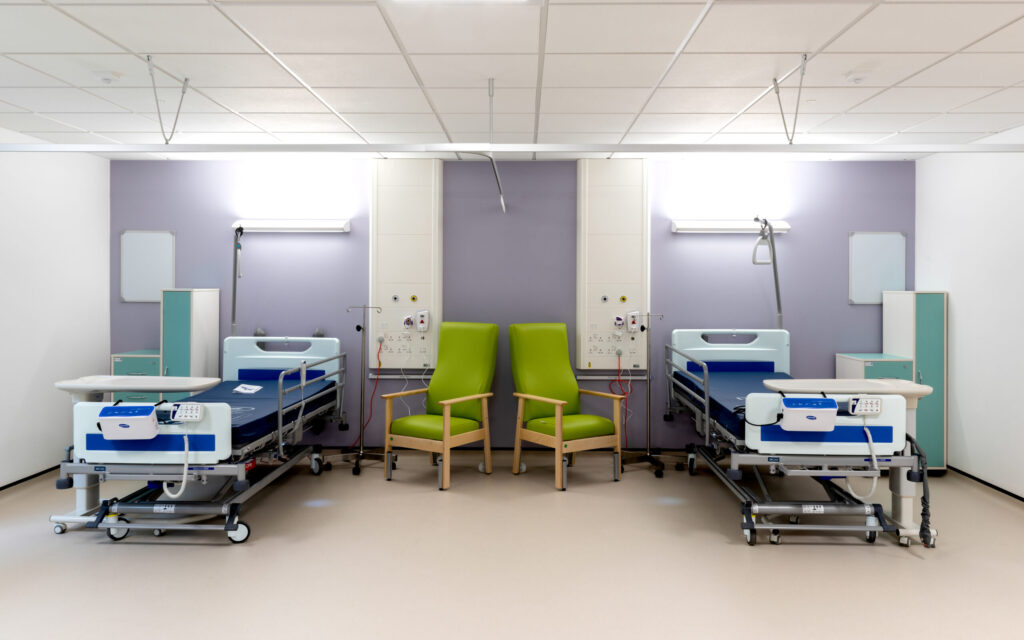 General In-Patient Wards
Our General Wards are scalable to meet any requirement. We can deliver small unit comprised of single-bedrooms or much larger, more sophisticated accommodation blocks.
Standalone facilities are equipped with supporting accommodation so that they may operate in isolation from the existing Hospital estate. Equally we are able to provide General In-Patient Ward space that ties into the existing estate for a rapidly delivered capacity increase in as little as 12 weeks.
We have pre-conceptualised 'standard' General Ward Designs ready to go, designed to the recommendations of Health Building Note 04: Adult in-patient facilities, or we can offer 'bespoke' solutions to meet unique requirements.
Our Modular General Wards can also be adapted to become Hybrid Wards that contain standard bedspace in combination with Negative Pressure Isolation Rooms outfitted for HCID patients.
Negative Pressure Isolation Wards
More contagious patients require a more clinical environment, and our Negative Pressure Isolation Wards provide exactly that.
We have been working with NHS trusts since the outset of the COVID-19 pandemic to provide the fast-track delivery of modular HCID Ward space, deliverable patient-ready in as little as 8 weeks for a 10-bed en-suite facility.
Our base footprint is a 10-bed en-suite ward facility, including supporting accommodation, but is flexible and designed to the recommendations of Health Building Note 04-01 supplement 1: Isolation facilities for infectious patients in acute settings.
The 10-bed Isolation Ward requires only 2 weeks of site fit out works, including 1 week of commissioning.
Isolation Units also confirm to World Health Organisation and UK Government Guidelines on facilities to treat High Consequence Infectious Diseases.
Modular Isolation Wards include less absorbent and more hygienic finishes, such as sealed metal pan ceilings, designed to withstand significant decontamination regimes (e.g. vapourised hydrogen peroxide).
We provide a single dedicated Air Handling Unit for each room to achieve a negative pressurisation ventilation regime the ward rooms, with air HEPA-filtered on extract.
Negative Pressure Isolation Rooms can also be integrated into Hybrid Wards that contain General In-Patient Ward Space.
Intensive Care Unit
Patients requiring a more substantial level of care require more a more clinical environment and our Intensive Care Units provide precisely that.
Our Modular ICUs include more hygienic finishes appropriate for care of patients receiving more invasive treatments, designed to withstand more rigorous decontamination regimes.
These facilities are designed to the recommendations of Health Building Note 04-02: Critical Care Units and include more extensive services at the bedhead, for instance 4-bar and 6-bar medical air, as well as standard oxygen supply, vacuum and so on.
Intensive Care Rooms can be integrated as part of Hybrid Ward facilities, coalescing with Negative Pressure Isolations Ward Rooms or General In-Patient Ward Rooms.
Acute Medical Unit
Patients requiring more acute care require can a standard of clinical environment beyond that of a General Ward and our Acute Medical Units deliver exactly that.
Much like our General Wards, our AMUs are scalable to meet any requirement, delivered patient-ready with all of the supporting accommodation required for your Clinical Team.
Our typical AMU design is a 20-bed en-suite facility comprised of single and 4-bed wards, including supporting accommodation, but is flexible and designed to the recommendations of Health Building Note 04-01: Adult in-patient facilities.
These can be deployed as standalone units or installed adjacent to your existing A&E department, including the additional space for write-ups and supporting staff, treatment rooms and storage required for your clinical teams to operate effectively.
A&E Wards
Much like our AMUs, our Accident and Emergency Wards are scalable to match your needs, with the patient waiting and triage accommodation required to support the ward unit.
Our A&E wards are delivered patient-ready in as little 12 weeks as a 12-bedded en-suite facility and designed to the recommendations of Health Building Note 04-01: Adult in-patient facilities.
Day Wards
ModuleCo Day Wards are designed to support patients receiving Day Case Operating Theatre procedures.
They are designed similarly to our General In-Patient Ward Space, though adapted to a more short-term recovery environment where basic observations can be carried out prior to discharge.
Our in-house design team can provide a 'standard' facility footprint, designed to the recommendations of Health Building Note 04-01: Adult in-patient facilities, or we can offer more 'bespoke' solutions to meet more spatially challenging briefs.
Maternity Wards
In keeping with our Maternity Unit, our Modular Maternity Ward is equipped with more comforting finishes to aid in keeping patients and their families feeling relaxed throughout their stay.
These facilities have a less clinical feel, providing a calming environment for those that need the gentlest care.
Maternity Rooms are provisioned for the type of care delivery required, with more electrical outlets than a General Ward, for instance, to facilitate the additional equipment.
Bed spaces are diligently designed to allow eight clinical team members to assist with care delivery comfortably and at a moment's notice.
For larger maternity capacity requirements, ModuleCo are also able to provide entire Maternity Units.
Paediatric Wards
Similar to our Maternity Wards, our Paediatric Ward is equipped with friendlier, more comforting finishes to keep younger patients and their families feeling comfortable throughout their stay.
Our children-focused facilities have a much less clinical feel, our design finishes providing a fun and calming environment away from home for those that need a gentle distraction from their care.
Temporary Ward Hire
ModuleCo offer Temporary Hospital Wards, ideal if you are looking for a less permanent solution.
We are able to offer all of our Wards on a hire basis through our procurement partner, ModuleCo Healthcare. Hospital Ward hire contracts are available from as little as 12 months to as long as 15 years and a fully managed service option includes the design, manufacture, installation and commissioning of the facility, combined with the provision of hard and soft services.
All of our Ward hire facilities are designed and built to the same state-of-the art, industry-leading quality as all our modular healthcare buildings.
ModuleCo and ModuleCo Healthcare are experts in the design, construction and procurement of modular healthcare buildings. Whether it is a permanent or temporary requirement, we have the experience and capacity to meet any challenge you face.
Find out more about the procurement options available to you.
Here To Help
ModuleCo's philosophy of 'quality without compromise' is founded on years of listening to what matters most to our clients and then striving to design, manufacture and deliver a 'best-in-class' facility that we and our clients can be proud of.
Our 'Factory-first' approach means we produce 90% of your facility off-site, allowing you to continue 'business as usual' and with minimum disruption on site.
Whatever challenge you face we are here to help. Our design team will strive to find a solution for any site which will be a valuable addition to the hospital and will provide a modern and efficient working environment for staff.
We are committed to provide you with the type of facility your Healthcare Professionals expect. It is a challenge we are happy to accept and one that we have a proven track record of meeting.