ModuleCo have provided a bespoke operating theatre suite with recovery for the Circle Health Group, providing additional capacity at Beardwood Hospital.
The Beardwood Hospital, previously the Beardwood Hall, has been operating since 1957 and provides various specialist services and clinics such as oncology, orthopaedics and cardiology.
The hospital treats mainly private medical insurance patients or those who are funding their own procedures, offering medical care, ambulatory care and operating services for children and adults, as well as outpatients, and diagnostic imaging services.
An investment in the new theatre facility was required to provide state-of-the-art technology and extra capacity to treat patients faster and provide the highest level of care. The new theatre facility provides the Hospital with:
208m2 operating theatre suite
55m2 operating room with screened UCV canopy with HEPA filters and an integrated 3-person scrub
45m2 2-bed first stage recovery ward
Sterile pack store
Dirty utility
Multiple store rooms
The project presented a challenge for both our design and project teams but one that they have experience taking on. The site identified for the new theatre meant the theatre had to be mounted on a raised structure, linking the facility into the existing hospital at first floor level.
Having designed and delivered facilities on large podium structures and in far more restrictive sites, the challenge was easy one for both teams to overcome.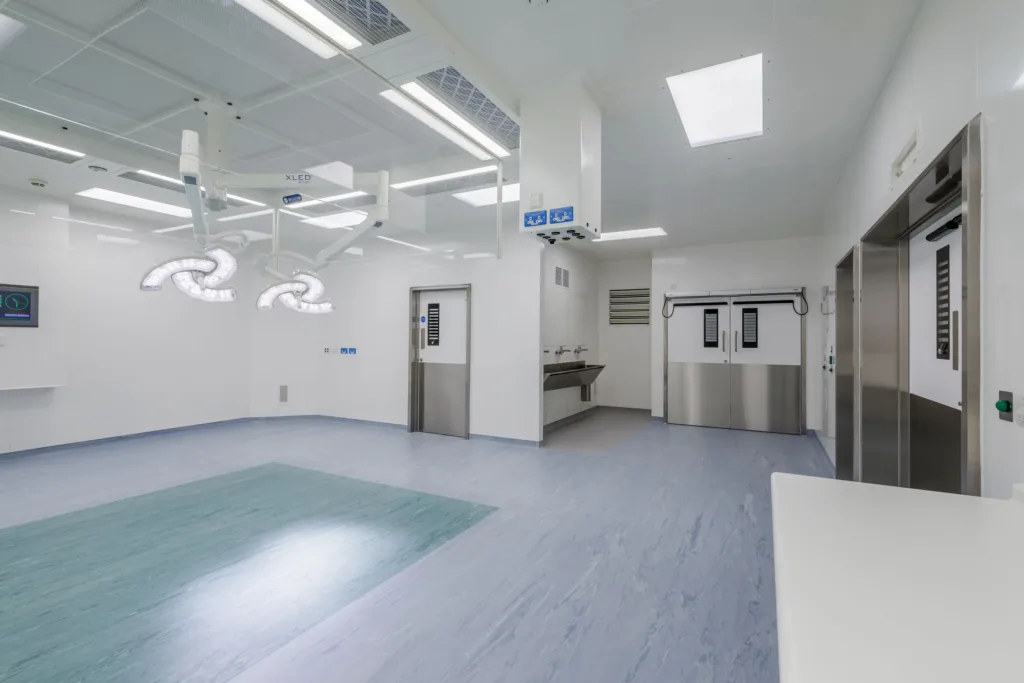 Sam Sheehan, executive director for The Beardwood Hospital, said: "Working with ModuleCo for the installation of an additional operating theatre on our site has been a seamless effort. Demand for our hospital services continues to grow, therefore, it is imperative that we increase our capacity ensuring we can treat as many patients as we can and offering them care close to home."
Cheryl McGreevy, Beardwood's Theatre Manager, said: "The opening of the new theatre allows us to care for more patients and give them faster access to treatment. It's a much needed valuable addition to the hospital facilities and we are delighted to have the extra capacity."