In October 2020 ModuleCo handed over an operating theatre suite to the University Hospitals of Morecambe Bay NHS Foundation Trust (UHMBT) at the Royal Lancaster Infirmary (RLI).
Complying with the current HTM/HBN standards for Operating Theatres the ModuleCo facility, including a 4-bed first stage recovery, featured the very latest design and technology to enhance patient care and create a vastly improved working environment for staff.
The ModuleCo theatre was built to provide capacity while existing operating theatres at the RLI were being refurbished and upgraded, ensuring UHMBT could continue to conduct vital operations whilst the works took place. The project was managed by the UHMBT Capital Services Team and the building work was funded with Public Dividend Capital (PDC) from the Department of Health and Social Care.
Working in conjunction with the hospital team, ModuleCo designed a bespoke two-storey solution that exactly fitted the footprint available, fully utilising the limited space on site and ensuring that the theatre linked in with the main surgical block on site.
To achieve this, the ModuleCo theatre was installed on a steel podium at first-floor level, also designed by ModuleCo.
To comply with the strict planning conditions in place for the site, the mechanical plant and air handling units for the theatre were situated in the space underneath the steel podium to keep the overall building height as low as possible.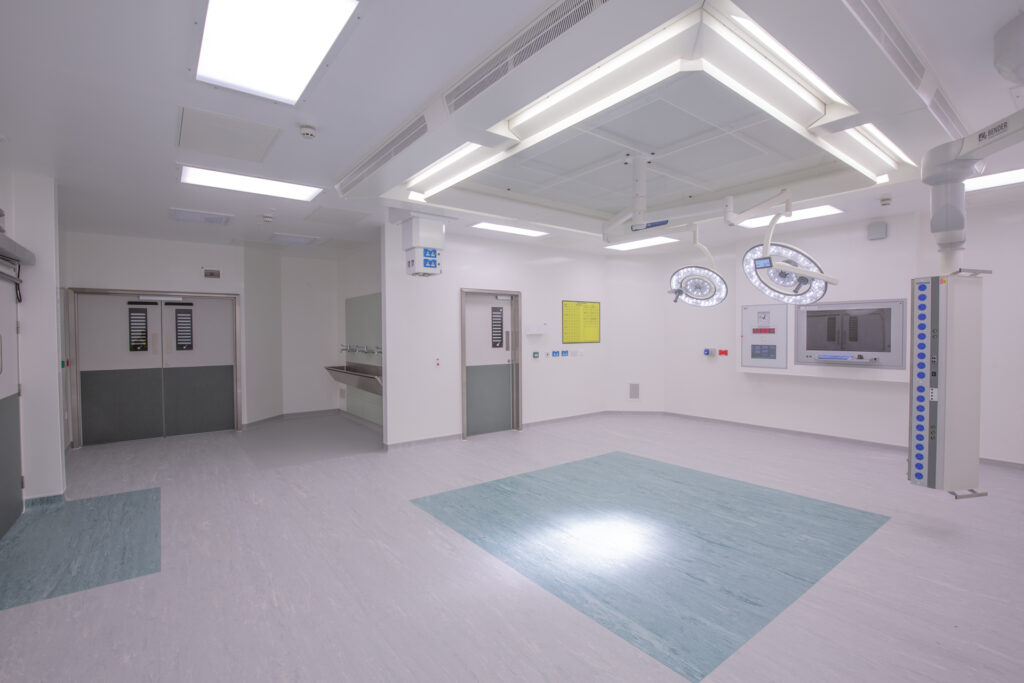 The unique operating theatre construction, assembly and installation took place off-site, ensuring minimal disruptions to a fully operational hospital site, something that would have been unavoidable with a traditional build approach. In fact, 90% of the fit-out for this project took place within our factory, allowing simultaneous site enabling works to take place, significantly reducing the overall programme.
Kate Maynard, Chief Operating Officer for UHMBT, said: "The new theatre will enable us to retain our operating capacity while important upgrading work is taking place. We can now offer a significantly enhanced experience to patients who come to us for surgical care. We would like to thank all of the contractors and our colleagues for their excellent work throughout the construction process. We now have an operating theatre that has the most advanced technology and design to ensure the highest levels of safety, care, experience and performance."
Danny Bakey, Deputy Associate Director of Operations for the Critical Care and Surgical Care Group at UHMBT, said: "This is an exciting development which will result in an improved environment for patients and, at the end of the refurbishment work, the theatre can be used to provide additional capacity. The theatre will give us much more flexibility upon completion of the renovations and it will have a life-span of around 60 years. It will provide facilities that are fit for the 21st Century and will deliver a better journey for our patients."
Jonathan Brindley, Sales and Marketing Director for ModuleCo, said: "This type of project is an ideal solution and showcase for what is possible in tight and space constrained NHS sites. The type of space we are able to install into is often the only usable space available within many hospital estates who have developed all accessible space over the years. We specialise in a design and construction methodology that allows us to deliver HBN compliant designs that maximise the limited space available in most hospital estates."