Orthopaedic Operating Theatre Extension
Operating Theatre Capacity Expansion
ModuleCo have provided a state-of-the-art Twin Operating Theatre Suite for the University Hospitals Coventry and Warwickshire NHS Trust, providing expanded Orthopaedic services at the Hospital of St Cross.
The new UCV operating theatres and 4-bed recovery were required to satisfy the need for additional capacity whilst also allowing the trust to refurbish and upgrade existing theatres at the Hospital.
The Hospital of St Cross is in Rugby, Warwickshire, and is managed by University Hospitals Coventry and Warwickshire NHS Trust, one of the UK's largest teaching Trusts responsible for managing two major hospitals in Coventry and Rugby.
Janine Beddow, Site Manager at Hospital of St Cross, said:
"We are delighted with how the installation of the new theatres has gone…the facilities are very impressive."
To provide space for the new facility, the dilapidated Hoskyn Ward building was demolished, providing a long courtyard area surrounded by other building in active use.
The new theatre facility provides the Hospital with:
572m2 Twin UCV operating theatre suite
Single storey with roof mounted plant decks which house the AHUs
55m2 Operating rooms with screened UCV canopy with HEPA filters and an integrated 3-person scrub
58m2 4-bed first stage recovery ward
Clean and dirty corridor access
Staff Rest and Office
Theatre store and bin store
ModuleCo also managed the enabling works element of the project, including foundation design and a substantial retaining wall to protect the new facility.
Operating Theatres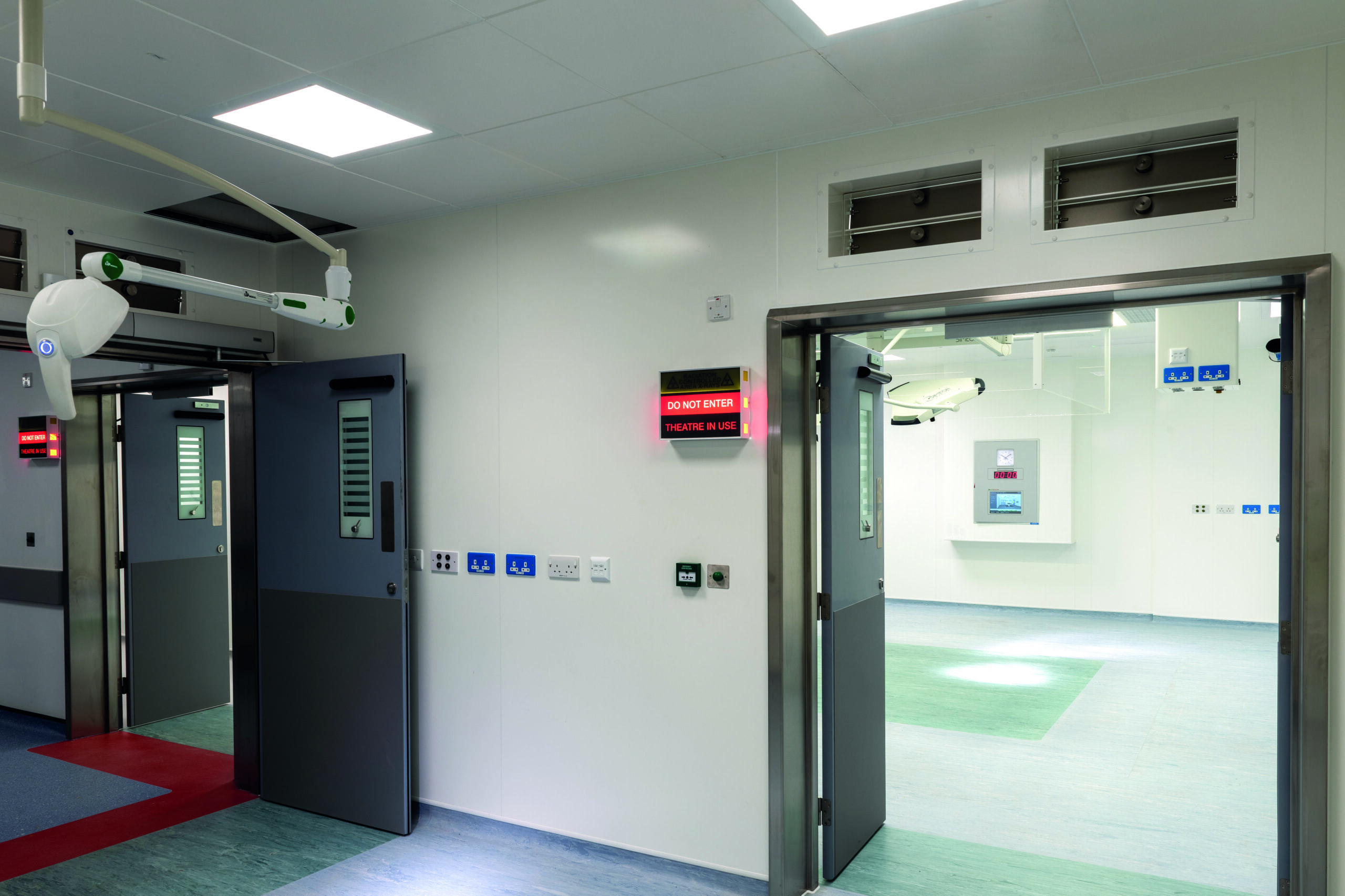 Our award-winning Operating Theatres are designed around both the patient and the professional clinical teams that use them every day. Having delivered over 120 state-of-the-art facilities in the UK alone, our team has learned precisely what healthcare professionals expect from a high quality facility.